Profile

Free Account
Created on 2011-12-23 04:29:04 (#1210891), last updated 2012-08-01 (268 weeks ago)
975 comments received, 27 comments posted
371 Journal Entries, 108 Tags, 0 Memories, 12 Icons

About

Mini Bio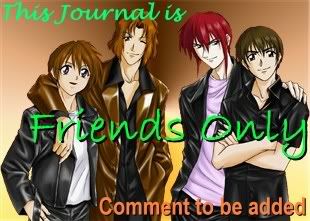 Important points about me:
*I am an actor/singer/dancer
*I am *somewhere* in my 30s
*Music is life
*I am obsessive.
*Especially about: SIAM SHADE (Hideki in particular), Japan, Arashi, FLOW, Weiß kreuz, the Calgary Flames...
*And whatever else I feel like being obsessive about at the time.
Since I still have so many friends over at LJ as well, most of my posts will be cross-posted to both.

Connect
acting
, aero bars,
aiba masaki
,
amy tan
,
anime
,
anthony warlow
,
arashi
,
bayern munich
,
broadway
,
bruce coville
,
calgary flames
,
cosplay
,
costuming
,
dancing
,
danny elfman
,
dragons
,
ewan mcgregor
, f-4 phantom,
final fantasy viii
,
flow
,
gackt
,
glasgow celtic
,
hideki
,
hockey
,
ice skating
,
j-rock
,
jason isaacs
, kohshi,
l.m. montgomery
,
languages
, lanny mcdonald,
malice mizer
,
manchester united
,
manga
, mike vernon,
musical theatre
,
musicals
,
nan desu kan
,
oingo boingo
,
oliver kahn
,
pavel bure
,
pirates
,
quistis trepe
,
rose mcgowan
,
siam shade
,
takehito koyasu
,
tim burton
, valeri bure,
victorian era
,
weiss kreuz
, white-haired bishonen

People
[View Entries]

Communities
[View entries]

Member Of (2):

Subscriptions (5):

Administrator Of (1):

Feeds
[View Entries]

Subscriptions (0)

Linking
To link to this user, copy this code:
On Dreamwidth:
Elsewhere: